17 October 2013: Three years of evaluating applications concludes succesfully
I would like to thank very much my collaborators for working together in a commission for the evaluation of applications for the "Ministry of Science and Higher Education prize". It was very enlightening meeting all of you, and working with you together. Thank you.
29 September 2013: Base on Mars by Joanna Kozicka: a PhD thesis "Architectural problems of a Martian base design as a habitat in extreme conditions" - first translation draft
Translation of PhD thesis about practical architectural guidelines to design a Martian base is going on quite well. We are ready to publish a translation draft:

Joanna Kozicka - "Architectural problems of a Martian base design as a habitat in extreme conditions" (draft, 14 MB).

Below are links to original version in polish:
Joanna Kozicka - "Problemy architektoniczne bazy na Marsie jako habitatu w ekstremalnych warunkach" (lowres 6 MB)
Joanna Kozicka - "Problemy architektoniczne bazy na Marsie jako habitatu w ekstremalnych warunkach" (35 MB)

Currently about 50% is translated so far. We are planning to finish this translation by the end of year 2014. It is an expensive endeavour as it requires to pay a professional translator. Therefore we are asking for donations:
Bitcoin donation address: 1KNLQbfLoc6xyHExDV19d2qdaCq8ST5ip4
Litecoin donation address: Legfq6X7DPF9Wy5mF1Gp8JyefeZqcYhYzB

7 June 2012: License update
Long promised license update: the work concerning my Martian Base is licensed under Creative Commons license:



"

Martian Base

by Janek Kozicki is licensed under a Creative Commons Attribution-ShareAlike 3.0 Unported License".

Also I suggest visiting a nice website in polish focusing on a Virtual Mars Base made by Bartek Nowicki and VMB Team.
17 September 2011: Published a paper "Human Friendly Architectural Design for a small Martian Base"
I am very happy that our recent paper about base on mars has just been accepted. It features a revised version of Martian Base design. See more renderings and updates here.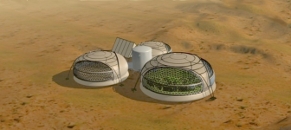 If you haven't done something already, you should. Learn about wikileaks and support it. This site is my favorite source of information about wikileaks: WLCentral.
5 November 2010: Published a book, and EMC10 impressions
I came back from the EMC10 Mars Society conference and I must tell you, that it was very nice to meet other people who work on Mars colonization. Now I have a photo with Robert Zubrin. There is a short relation in polish from the conference. Also there is a short movie about Mars Society and space commerce prepared by one of our TV stations, you can find me at 1:20 in there.

Second thing is that just after I returned from the conference I was informed that my book about fibre reinforced concrete has been just published. Not space related, but that's what I do for living.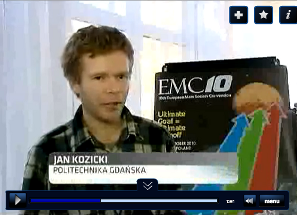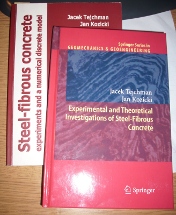 7 September 2010: Gdansk University of Technology distinction
After I received an award mentioned in note below (16 July 2010), my home university Gdansk University of Technology published a short article about me on the front page! See google English translation link: front page and article page, and polish link. And since this story won't last longer than a week on the front page, here's a screenshot: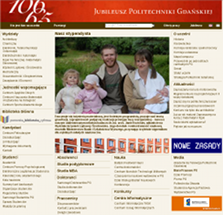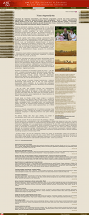 And English screenshots (google translate, not perfect but quite convenient): front page and article.
26 July 2010: Welcome COSPAR 2010 visitors
I have uploaded a video (thanks to Konrad Mruk), the presentation, a poster and two abstracts, all that me and my wife have presented on the COSPAR 2010 conference. Please head on to Base on Mars, recent news section and have a look!


16 July 2010: I received an award!
The Ministry of Science and Higher Education (check English wiki link) has awarded me a prize (untranslated link) for extraordinary scientific achievements. I am astounded by this turn of events, because I really wasn't expecting this. This places me in line with the best scientists in Poland, since only 32 people from whole country were awarded. Now I feel even more motivated to pursue scientific research, but this time without worrying about feeding my family. Update: the number of people awarded has grown to 85, thanks to additional funding obtained by the Ministry.
7 April 2010: an interview with me
The interview is finished. If you are interested, please have a look!
28 March 2010: an interview preparations and my publications update
Patrick Jaecques from Astro Event Group, a free internet Journal (Ostend, Belgium), asked me for an interview. It was a quite nice experience answering those questions. The interview is in the preparations right now and soon it will appear in Astro Even Group journal and also I will put it here, on my website.

I have updated my list of publications too (in the menu on the left).
16 Oct 2009: Welcome EMC-9 2009 visitors
We have shown two presentations in Bergamo, Italy (16 Oct 2009)
- "Martian Architectural Solutions", Dr eng. architect Joanna Kozicka.
- "A Mars Outpost, the architectural design for a Polish Hab Project", Dr eng. architect Janek Kozicki
23 July 2008: Welcome COSPAR 2008 visitors
As I promised, here is the poster that was presented on the COSPAR 2008 conference, you can download a full-sized poster (very big) or a small version.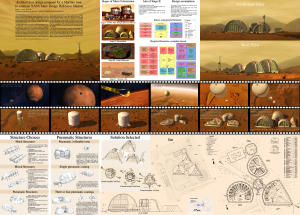 Download a one page abstract.
Thank you for your interest. I plan to translate my website into english and update it, as it's really old now.



26 March 2007: Update
I have just added a link from Yade homepage pointing here, because this is my homepage. Unfortunately I have no time to work on my homepage, and it's almost completely in polish.

I plan to translate it (and translate my MsC work about "Base on Mars" too) around the mid of 2007. Currently I'm doing a PhD about modelling fracture process in concrete with a lattice beam model.

In meantime, you can contact me by email:

.
...
26.styczen.2005
Modelowanie betonu przy pomocy metod dyskretnych
Robie z tego doktorat. Jestem tym tak mocno zajety ze az nie mam czasu na irca czy listy dyskusyjne ;).

Przy okazji wyszlo ze pisze we wspolpracy z instytutem INRIA w Grenoble program opensource, pod linuxa na licencji GPL, ktory bedzie pozwalal symulowac nie tylko beton i nie tylko przy pomocy metod dyskretnych. Zobacz jak chcesz. Jak skonczy sie moje ponad polroczne stypendium we Francji (tutaj pisze ten program) to zamierzam skonczyc tlumaczenie bazy na Marsie na angielski i zrobic porzadna strone itd... 23.wrzesien.2004
No wreszcie obronilem ten dyplom :) Dyplom z Bazy na Marsie (architektura, Politechinika Gdanska) jest tutaj. Planuje zrobic porzadna strone www na ten temat. Przetlumaczyc to na angielski, wyslac do NASA albo ESA itd...

Chesz zglosic bugreporta na temat tego projektu? Zapraszam:

, wszystkie maile skrzetnie zachowam i zabiore sie za odpowiadanie na nie, jak zabiore sie za tlumaczenie tego na angielski. Bede tez na konferencji o habitatach w kosmosie, wiec tam sie mozemy spotkac. Obecnie jestem zbyt zajety (patrz wyzej).

10.maj.2004

Baza na Marsie
I znowu jestem tak zajety dyplomem, ze nie mam czasu zrobic porzadnej strony domowej. Tym razem to na architekturze - projektuje baze na Marsie.

18.luty.2003

Fraktale
Zamieściłem na serwerze film zoom-in do zbioru mandelbrota. Komputer liczył go tylko dwa dni (fractint), potem automatyczna obróbka w gimpie (miałem ok. 800 klatek, gimp mi wygenerował po dwie klatki pośrednie, więc film ma w sumie ok 2400 klatek i trwa ok. 2 minut). Film jest tutaj (Uwaga: format filmu to MPNG (animowany PNG), z tego co wiem to tylko mplayer go potrafi odkodowac). Na twardzielu czekaja jeszcze do zmontowania klatki z obliczen co sie liczyly 2 tygodnie. Ciekawe kiedy znajde czas zeby je zmontowac? Zapowiada sie calkiem dlugi film :) Przekodowalem ten film na format MPEG4, gorsza jakosc ale za to kodek popularniejszy. A ponizej w najgorszej jakosci - na youtube (koniecznie wybierz jakosc 480p):

Aha, i wcale nie poswiecilem calego roku 2003 na robienie filmow o fraktalach :)

8.luty.2003
Wziąłem ślub i strasznie kocham swoją żonę Asię, niebawem więcej o tym ;-). Zeby bylo weselej, Asia robi doktorat z bazy na Marsie, tylko ze wiekszej niz ta moja :))

Zrobiłem kiedyś fotki wnętrza swojego kompa, i chciałem się pochwalić.

13.październik.2002
Po dyplomie i po wakacjach, teraz inna robota. Pozniej z tego zrobie doktorat.

11.maj.2002
Jestem tak mocno zajety dyplomem, ze glowa mnie az od tego boli. Robie symulacje metodami dyskretnymi, zeby liczyc zachowanie sie betonu. Jak w koncu zrobie te strone to zamieszcze tu wszystkie swoje publikacje w .pdf




CCBot/2.0 (http://commoncrawl.org/faq/)